Specializing in creative solutions in the fields of design and construction. With special attention to water intrusion and other concerns of a building's weather envelope. Focused, cost-effective solutions to design and construction problems.
Creative Problem Solving
Providing professional expertise to owners, managers, building contractors and architects, a reliable resource to use in addressing construction and design challenges. Providing a sound basis upon which funds may be committed with confidence.
Responsible use of client's resources.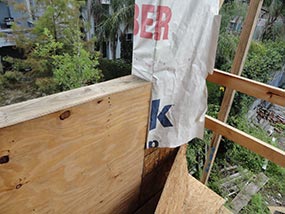 What's New
November 25, 2013
The photo shows a not uncommon problem with the manner in which a water-resistant barrier, in this case, Tyvek, is being installed on a residential project. Unfortunately, oftentimes those installing materials are not taking the time to insure the installation is being performed properly, and frequently unnecessary damage results. An owner should have his general contractor ...
» Continue